The new recording from Ed Johnson & Novo Tempo now available! See below for details.
For Every Living Thing — by Ed Johnson & Novo Tempo
The eagerly anticipated CD by Ed and Novo Tempo is now available! Featuring mostly original compositions with the band's trademark Brazilian flavor, it explores themes such as finding joy through hardship, caring for our planet, and how love sustains us all.
Now available at: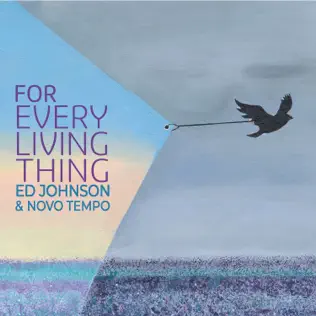 Featuring:
• Ed Johnson – guitar and vocals
• Jennifer Scott – vocals, keyboards
• Kristen Strom – sax, flute, vocals
• John Worley – trumpet, flugelhorn
• Scott Sorkin – guitar
• Jeff Cressman – trombone
• Rene Worst – bass
• Mark Ivester – drums
• Jason Lewis – drums
• Michaelle Goerlitz – percussion
• Jeff Busch – percussion
Performances
Mar 8, 2023 • Live & Aloud — Novo Tempo Trio. Presented by Friends of the Redwood City Public Library, hear a combination of Brazilian-inspired original songs and creative covers of some of some favorite Brazilian songwriters.
Mar 26, 2023 • Jocelyn & Walter's Porch Concert Series, 3:00-4:15pm. With Jocelyn Elisa (vocals),
Walter John Bankovitch (piano/vocals), Stefan Cohen (saxophones), Phil Montalvo (Latin percussion), Thomas Turner (cajón).
Take lessons with Ed on Zoom
Ed has been teaching private lessons in guitar and voice through Palo Alto's Gryphon Stringed Instruments for 30 years. With his many years of experience, he brings knowledge of all aspects of guitar and vocal techniques that few can match, plus an affinity for students at any level of ability.
Questions? Email Ed or call 650-996-2155.
JAZZ GUITAR
CLASSICAL GUITAR
ACOUSTIC GUITAR
ELECTRIC BLUES & ROCK GUITAR
MANDOLIN
VOICE
Need great music for your upcoming event?
Ed has over thirty years experience playing at private parties, corporate events, weddings, and other functions. He can provide solo guitar or create a custom ensemble in whatever size you need. Whether you want jazz, classical, rock, country, oldies, or anything in between, Ed's stellar musicianship will make your event memorable.
Email Ed or call 650-996-2155 or use the form at right.