PRIVATE LESSONS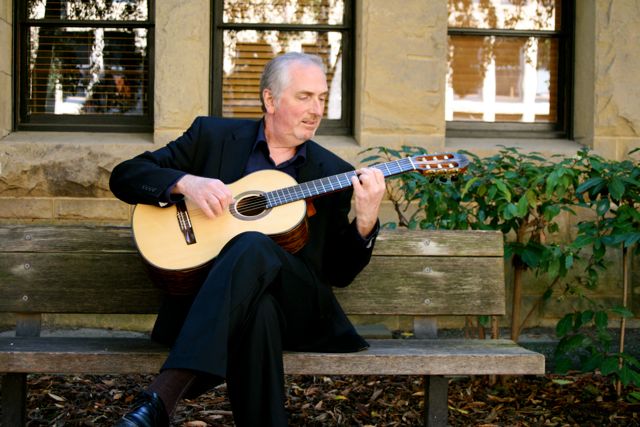 Ed has been teaching private lessons in both guitar and voice at Palo Alto's Gryphon Stringed Instruments for 30 years, making it the longest anyone has been on Gryphon's private lesson staff. With his many years of experience, he provides a knowledge of all aspects of guitar and vocal techniques that few can match, plus an affinity for teaching students at any level of ability.
JAZZ GUITAR including everything from playing simple swing chords for song accompaniment to be-bop, modern mainstream jazz, and Brazilian jazz. Ed has transcribed and arranged literally hundreds of songs in these styles, and has developed excellent materials that deal with soloing over chord changes and jazz theory.
CLASSICAL GUITAR with repertoire ranging from Renaissance, Baroque, and Classical composers to the great works of Spanish and Latin American composers of the 19th and 20th centuries.
ACOUSTIC GUITAR STYLINGS including basic folk guitar, country blues, bluegrass, contemporary singer-songwriters, and classic rock repertoire for acoustic guitar.
ELECTRIC BLUES AND ROCK GUITAR especially the styles of blues masters such as B.B. King and rock/blues stylists such as Clapton and Hendrix.
VOICE INSTRUCTION Ed is as highly regarded for his vocal talents as he is for his guitar prowess. He has developed a proven method for teaching voice that really helps to remove the "mystery" of vocal technique and help people overcome the barriers that are often associated with singing. The musical styles and repertoire that Ed offers to voice students include jazz, rhythm and blues, folk, and rock. He also teaches harmony singing (a favorite of his!).
For now, all lessons are held on Zoom. When things are back to normal, lessons are held at ​​Gryphon Stringed Instruments, 211 Lambert Avenue (at Park Ave.), Palo Alto, CA 94306.
Questions? Email Ed or call 650-996-2155.
30-minute private lesson
$55
45-minute private lesson
$80
1-hour private lesson
$100